Personalized Nutrition Coaching Carbondale, IL
We design a personalized nutrition program that ensures your body will get what it needs to stay healthy, strong, fit and trim.
What we provide
Using secured apps, we focus on building mindfulness habits and behaviors

A thorough report of your personal goals and activity-levels that will be referred to throughout the course of the program.

A weekly nutrition-oriented habit designed around your lifestyle to build on and master, with the guidance of your coach.

Meal prep and grocery guide

Contact with coach via email/text/in-person consultations
Online only version available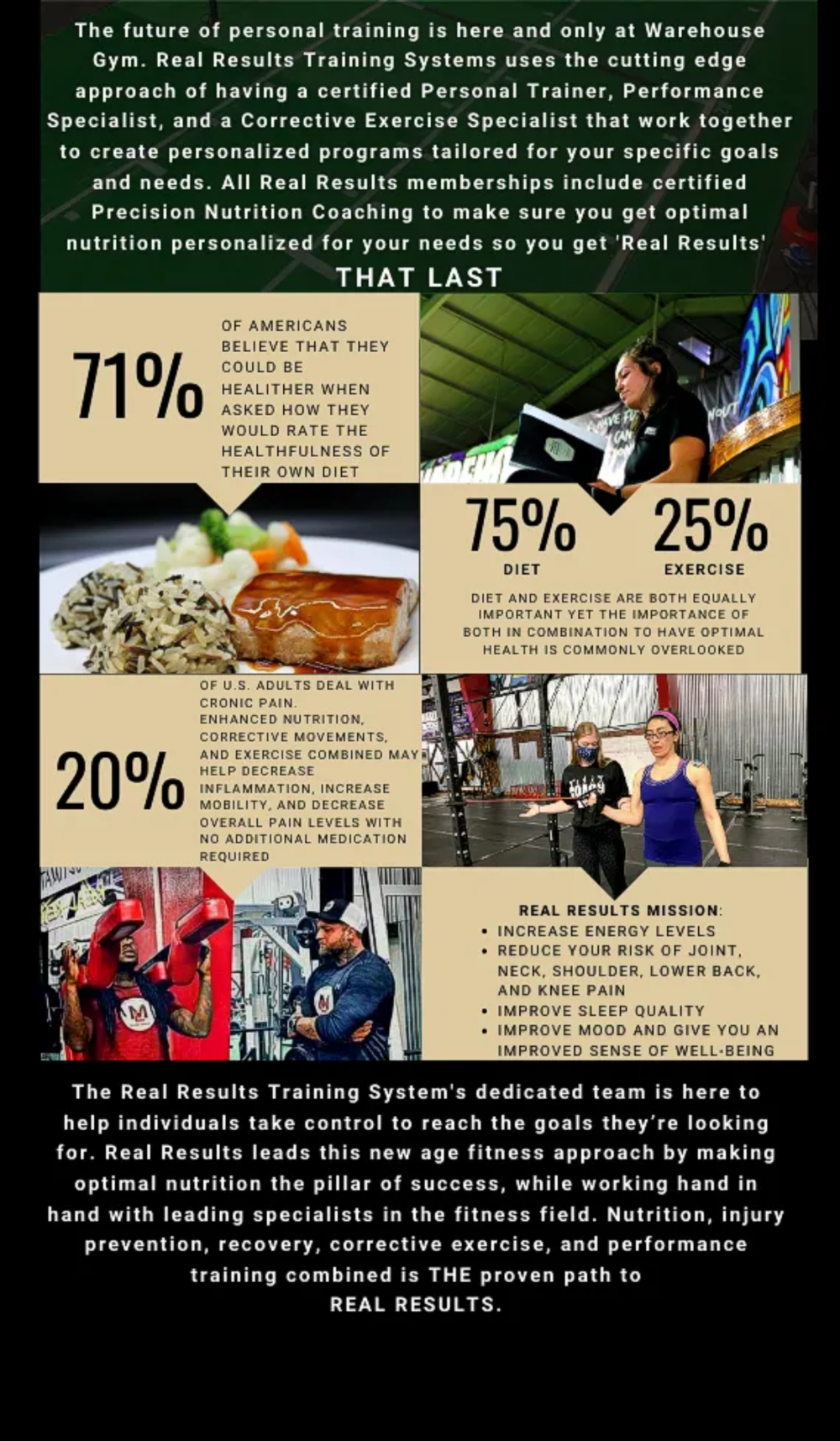 Get Real Results From Your Training
The Real Results Training System includes programs created by certified trainers and Corrective Exercise Specialists. We offer nutrition coaching by a Precision Nutrition certified nutritionist and leading nutrition specialists. You can arrange for monthly or weekly (depending on package) check-ins with a certified personal trainer and nutrition coach.
Base packages include 24/7 gym membership, personalized workout program, personalized macro-based nutrition coaching, monthly check-ins with coaches as well as weight and BMI measurements
Premium packages include 24/7 membership, personalized workout program, one on one coaching with a nutritionist which covers macro-based meal plans, as well as weekly check-in meetings and optional meetings with a corrective exercise specialist or personal trainer.
The Real Results Training System is also available fully online for busy on-the-go clients. The app is easy to use and suitable for all types of workouts. It has workout tracking to make sure you meet your goals.
This dedicated team is here to help individuals take control to reach the goals they're looking for. Real Results leads this new age fitness approach by making optimal nutrition the pillar of success, while working hand in hand with the leading specialist in the fitness field. Nutrition, injury prevention, recovery, corrective exercise, and performance training combined is THE proven path to REAL RESULTS.
If you want real results from your training, get in touch with Warehouse the Ultimate Gym in Carbondale, IL!


Call (618) 529-5511 for professional nutrition coaching and personal training.
24 hours/day, 365 days a year 

1215 E Walnut St
Carbondale, IL 62901
Counter Hours:
Sunday :  Closed
----------------------------------------------------------------------                    
Full Access Member Hours:
Monday - Sunday:  24/7